– Advertising –
Thanks to the official Twitter account and the website of Kokyu no Karasu ("Raven of the Inner Palace"), a little birdie informed us about the artists of the theme song for the upcoming historical drama anime: QUEEN BEE (Dororo OP) will perform "MYSTERIOUS" for the opening theme, while newcomer Krage will perform "Natsu no Yuki" ("Summer Snow") for the ending theme.
A second main trailer featuring a preview of the theme songs and more of the story has been released, along with concept art and the additions of Mana Hirata (Hazuki in Baka & Test – Summon the Beasts –) like Ishiha and Reina Ueda (Kanao in Demon Slayer: Kimetsu no Yaiba) like Unkajo.
– Advertising –
Trailer
Visual concept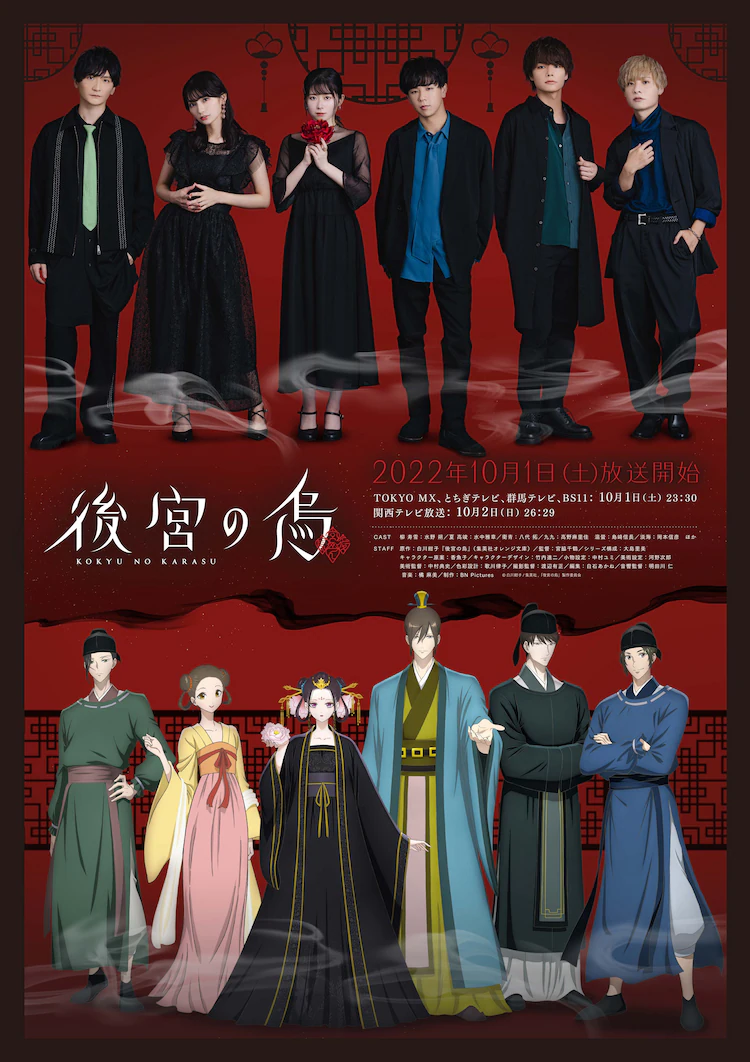 RELATED: Kokyu no Karasu Anime Takes Flight With Enchanting New Visual and Trailer
Based on the novels by Koko Shirakawa and Ayuko, Kokyu no Karasu is directed by Chizuru Miyawaki (Gintama) at BN Pictures studio, with serial composition by Satomi Oshima (Fortune favors Lady Nikuko screenplay), character designs by Shinji Takeuchi (Gintama) and music by Asami Tachibana (Moriarty the Patriot).
As previously stated, the "Chinese Fantasy Tale" novel series follows Ryu Jusetsu, a concubine of the ruling Emperor but is never called by him to perform her imperial duties, until one night the current Emperor Koushun appears in the chambers of the harem with a haunted jade ear. Their meeting is meant to unravel history as we know it.
The anime should start airing October 1st.
Source: comedic Natalie

Der shy behind @ShymanderLiam is a fluent Aussie with a distinct fondness for anime, Eurovision, and creating weird stats projects despite his hatred of math.