In the book Mobility, telemedicine, advocacy for health in the 21st century, initiated by the company Loxamed, an exclusive survey concerning "The French and equal access to care" was published. Health appears to be the second major subject of concern for the French (31%), behind purchasing power (49%), and ahead of global conflicts and climate change.
These concerns differ somewhat according to the age of the French, but health is a theme that concerns all generations (33% of those over 50 and 30% of those under 35).
In terms of health, the quality of care and the installation of health professionals in medical deserts are the two most important subjects to be dealt with in the months to come, according to the French.
For an appointment with a general practitioner, 56% of French people would not be ready to travel more than 10 km.
In terms of time, 1 out of 2 French people do not declare themselves ready to wait more than 2 days between appointment and consultation.
In this very penalizing context, itinerant healthcare solutions would be widely appreciated. A mobile solution to meet health professionals would be judged positively by a large majority of French people.
The usefulness of this solution is highlighted by 90% of them and the vast majority of them say they could use such a mobile solution if it were offered close to home.
If the teleconsultation carried out by videoconference from home is known by more than 3 out of 4 French people, a little more than half of them say they know the spaces dedicated to teleconsultation with support. Whether they have personally experienced it or not, the majority of French people consider teleconsultation effective for treating minor illnesses (76%), obtaining an urgent appointment with their doctor (72%) or undergoing long-term treatment ( 67%).
Overall, a little more than 3 out of 10 French people say they have already experienced teleconsultation, a higher proportion among young people, inhabitants of the Paris region and those who have the feeling of living in a "medical desert". Whether or not they have already experienced teleconsultation, the French are clear: they would prefer a remote consultation by being alone with the doctor rather than being accompanied by a health professional.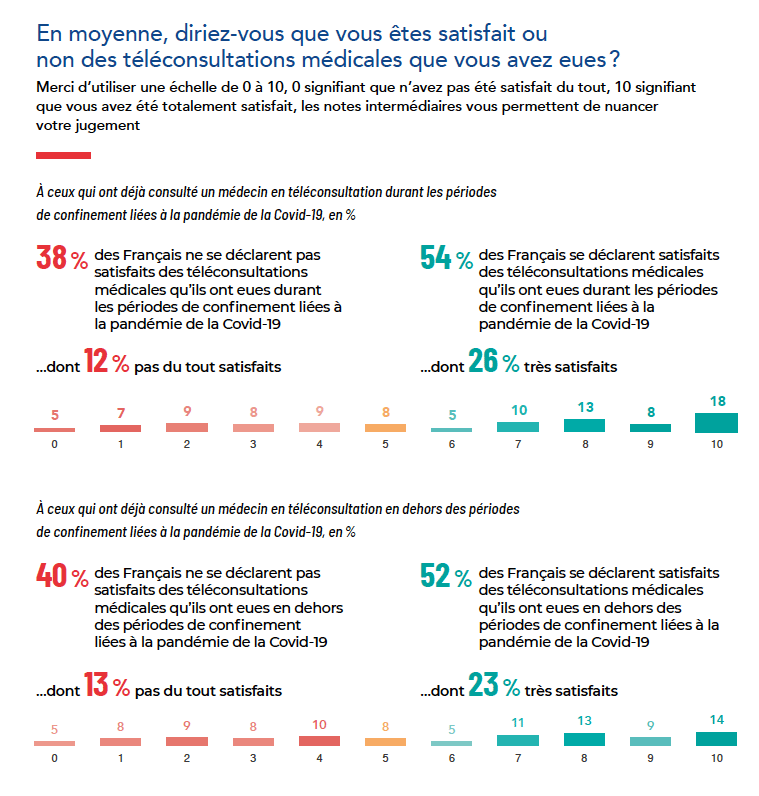 All results are available at www.plaidoyersante2022.com
Survey conducted online from April 4 to 5, 2022, by Harris Interactive with a sample of 1,029 people representative of French people aged 18 and over. Quota method and adjustment applied to the following variables: sex, age, socio-professional category and region of the interviewee.